Description
The BERNINA Q 20 and Q 24 are designed, engineered, and assembled in Switzerland.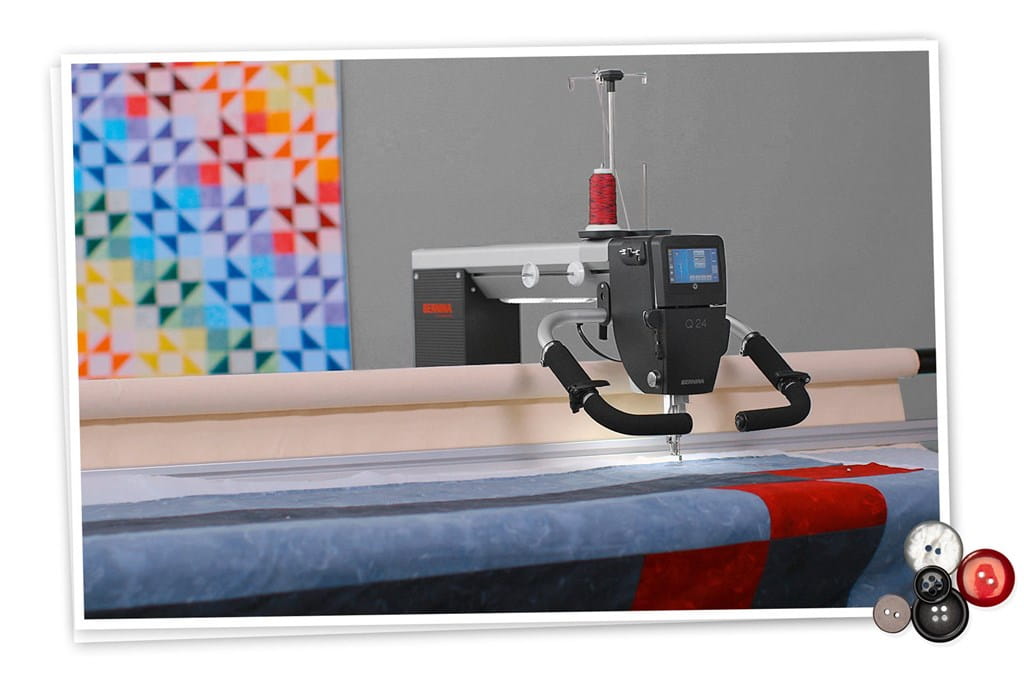 Choose your desired longarm quilting machine and frame for free-motion quilting purposes.
The BERNINA Q 20 and Q 24 are BERNINA's high-end longarm quilting machines and differ in the length of the longarm.
Choose the BERNINA Q 20, if you want to realize delicate stitches on your big quilting dreams.
Choose the BERNINA Q 24, if you want to realize the biggest quilting dreams you can imagine. Due to the simplicity of the machine and frame design this quilting system has the largest usable quilting space in the 24-inch category.
Both longarm quilting machines are available on one of BERNINA's two quilt frames – "Small" or"Classic".
From the very first stitch, you will appreciate the thought behind every detail.
Perfect free-motion stitches
Achieve perfect stitches with the integrated BERNINA Longarm Stitch Regulation
Keep the stitch length consistent at any speed
Stay flexible with three regulation modes
Simple customizing via the machine's touch screen
Precise sensing of machine/fabric movement with dual sensors
Unique user interface
Simple navigation via color touch screen
Totally customizable
Stitch counter, five user profiles, built-in tutorials and help functionalities
Easy threading and bobbin winding
Thoughtfully positioned spool holders and forward threading path are easy to reach and simple to follow
On-board bobbin winder (M Class bobbin) makes it convenient to wind coordinating bobbin threads for your projects, independent of machine operation
Unique programmable, fully adjustable handles
Fully, 8-way adjustable handles for your comfort
Quilt in your perfect position
Individually programmable buttons to Keep your frequently used functions at your fingertips
Unique digital tension control
Exclusive tension system with numeric tension settings making it very easy to use a wide range of thread types with success
No external tension assembly required
Presser foot tension release for threading ease
Fast and precise stitching
High speed precision stitching for hand-guided quilting with up to 2,200 stitches per minute
Complete more quilts more quickly than ever
Enhanced visibility
50 bright LED lights along the length of the machine and above the needle
Illuminate your quilt for enhanced visibility
Ergonomics
Fully operated from the front
Dual handwheels (front and back) for easy manual needle positioning
Front handwheel is disengaged when using the electronic needle positioner
Lisa H. Calle, Longarm Quilt Artist
With a degree in Textile Management and Marketing, Lisa H. Calle soon began to explore the "other" side of textiles . . . the artistic side. She fell in love with quilting in 1997 and discovered longarm quilting in 2004. Her award-winning original designs have opened the door to teaching opportunities so that others can learn from her art and skills.
"Once you drive a BERNINA longarm, you never want to drive anything else."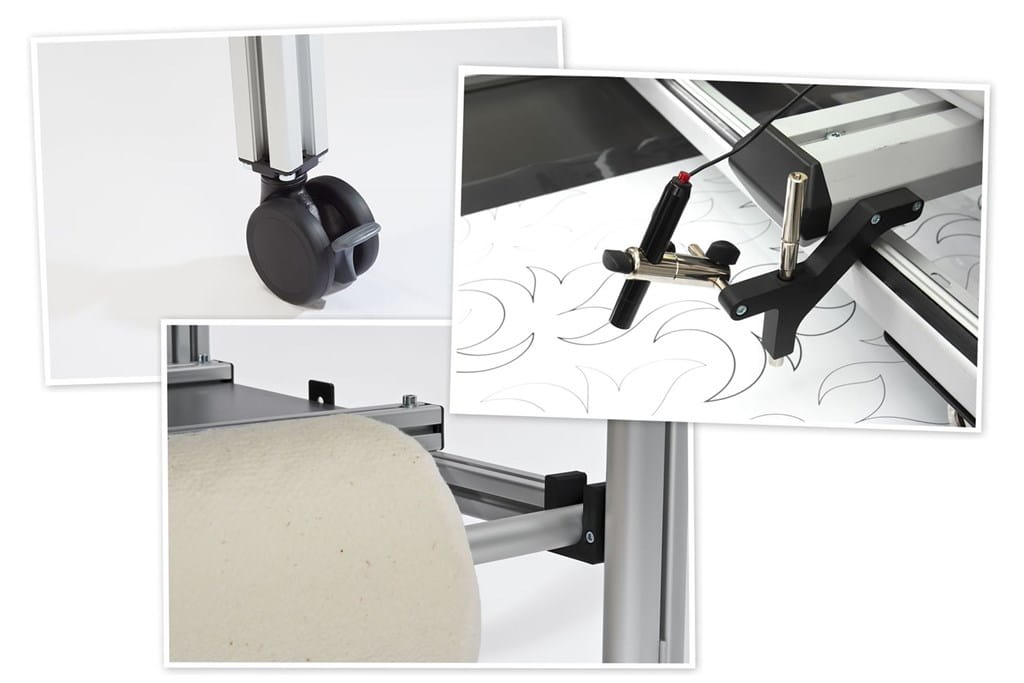 BERNINA Longarm Accessories
BERNINA offers a wide range of longarm accessories, which fit your long arm quilting machines and  your frame.
Frame: Strength and Style in Three Sizes
For excellent quilting results, we have developed an ideal, high-quality frame which is available in two different sizes (Classic/Small). All frames are constructed from anodised aluminium for a light weight yet sturdy frame that can handle the weight, size and speed of the BERNINA Longarm machines with ease.
Frame
Classic
Small
Size (length & depth)
12′ × 3.9′
3.60 × 1.2 m
9′ × 3.9′
2.75 × 1.2 m
Leader
120" / 10'
ca. 3.07 m
83" / 6.9'
ca. 2.12 m
Adjustable working height
35" to 47"
0.9 to 1.2 m
35" to 47"
0.9 to 1.2 m
Total weight*
330 to 508 lbs
150 to 230 kg
330 to 508 lbs
115 to 120 kg
Number of legs
6
4
Hydraulic height
optional
not available