Description
Step beyond your dreams with the Stellaire XJ1
Pursue endless possibilities with the latest luxury features that you have been yearning for.
This stellar machine will allow you to experience the freedom and comfort of sewing on a huge 56 square inch workspace, giving you the ability to achieve virtually any project with ease.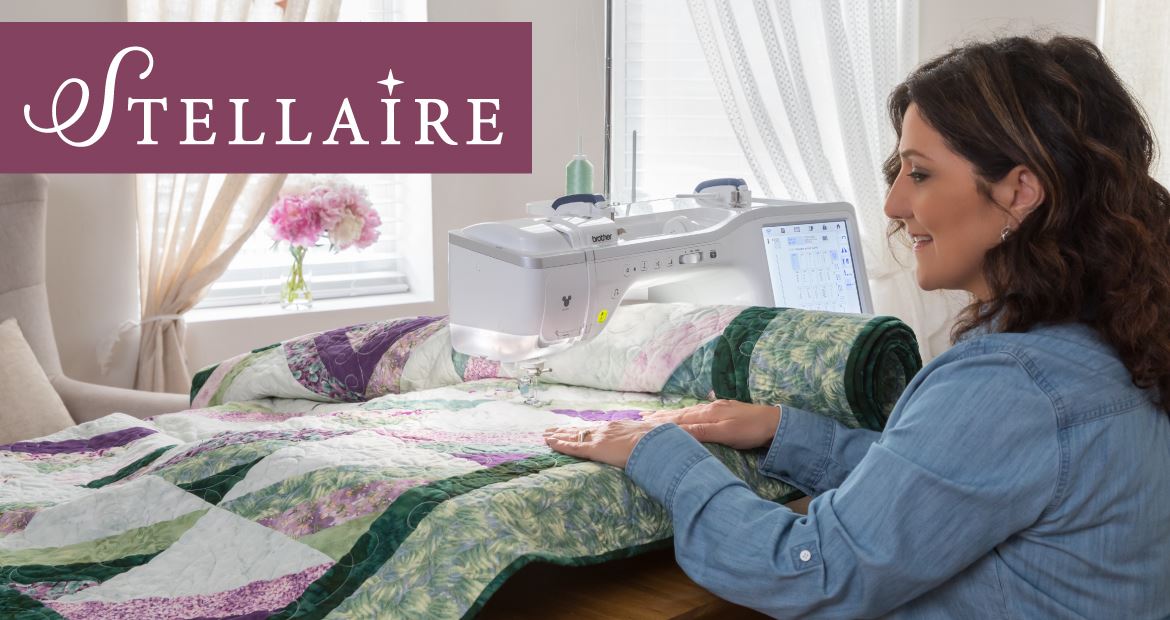 Featuring a vast range of decorative fill options, stitch selection choices and settings, you can create and personalise projects like there's no tomorrow.
With the all new My Design Snap mobile app, you can capture pictures of line art or illustrations to convert into embroidery and execute precise positioning of designs to perfect your embroidery even further.
The Stellaire XJ1 includes a gallery of design choices withe 727 built-in designs including over 100 Disney designs, plus an expandable library of built-in tutorial videos to help you master your embroidery. With embroidery speeds up to 1,500 stitches per minute and an 11″ needle to arm work-space, this machine will open doors to incredible opportunities.
My Design Snap app for mobile – NEW!
Turn almost anything into embroidery with the help of new My Design Snap mobile app
Creating your own work of art has never been simpler. It's as easy as 1-2-3.
Use the My Design Snap mobile app to turn handwriting, a drawing or an illustration into embroidery data for use on your machine.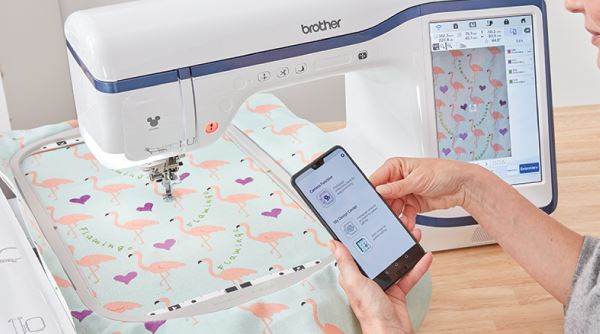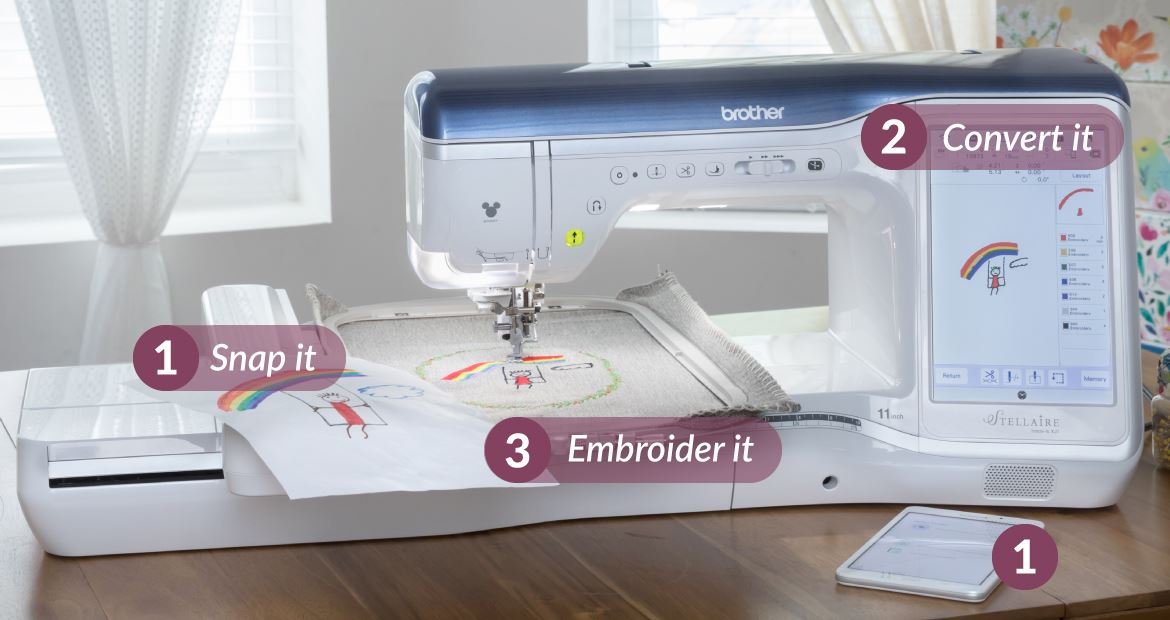 Convert drawings, line art or illustrations into embroidery with the NEW snap and embroider feature.
Take an image or illustration you love and turn them into a memento using the My Design Snap app on your mobile device.
The image or photo is sent to your machine via a WiFi connection and then converted into embroidery data on the machine.
Create one-of-a-kind embroidery designs by combining the different decorative fills to make your image pop.
Design placement with precision 
Perfectly place your design exactly where you want it every time with the use of the My Design Snap mobile app.
Simply place the Snowman where you plan to embroider and Snap a picture of the embroidery area using the My Design Snap app on your mobile device.
The preview is then sent to the machine screen for you to see.
The design will automatically rotate and position itself in the designated space…it's that easy!
*Mobile device compatibility may vary.  In some cases, there may be some difference between the LCD view and actual embroidery stitch-out.
Wide work-space and embroidery area

Large 9.5″ x 14″ embroidery frame
Enjoy the ability to make larger projects with the 9.5″ x 14″ frame. No need to re-hoop when you combine any 4″ x 4″ or 5″ x 7″ design.
The large frame will allow you to combine and stitch out the designs in one hooping.

More room to create
11.25″ needle to arm span
Enough room to accommodate larger projects, such as bed quilts with 56 square inches of work-space
10.1″ touch screen HD LCD screen – with crystal clear display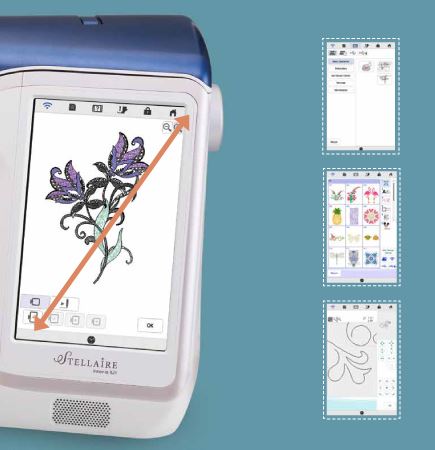 Built-in tutorial videos.
Built-in tutorials make learning easy.
Simply watch the video tutorials directly on the high-definition screen.
The library of tutorials covers basic operation, embroidery and even maintenance.
Intuitive interface and stitch simulator
The machine interface is easy to navigate with a full colour display and large icons.
You will now have the ability to view your design being stitched out on screen.
Zoom and adjustment features. 
Zoom up to 800% within My Design Center (up to 200% in other modes) and view your creations up close with the crisp full-colour display.
Disney is in our DNA
With 101 Disney embroidery designs built right in, the Stellaire holds the magic of Mickey Mouse, Minnie Mouse, Goofy and Pluto.
Plus, your favourite characters from Frozen, Finding Nemo and Cars!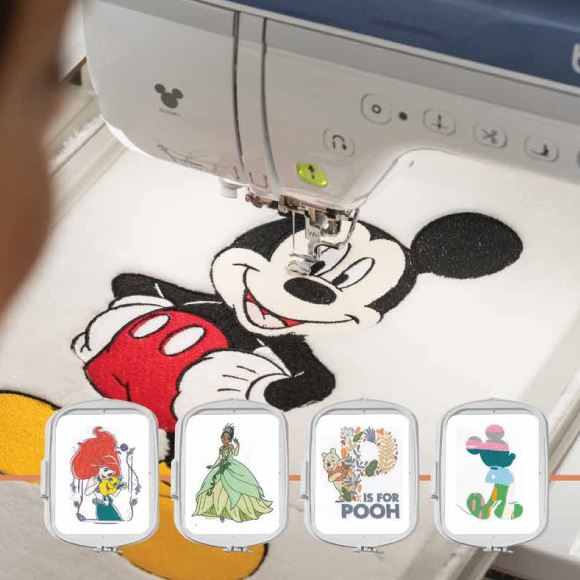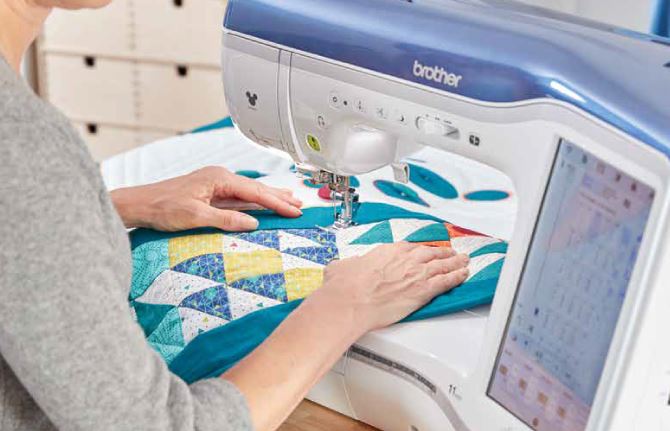 Built-in embroidery designs and sewing stitches
Large 9.5" x 14" Embroidery Area
11" Needle to Arm – 56 Square Inches of Work-space
Over 700 Built-in Embroidery Designs and Fonts
Sew Straight Laser Vision Guide
Large 10.1″ built-in high-definition LCD display
Fast Sewing and Embroidery Speeds
MY DESIGN CENTRE, a Brother Exclusive that offers new design capabilities
Advanced Presser Foot Control
Note: The brochure provided is the US version and may include accessories or features not available in Australia