Description
One-Step BERNINA Air Threader
Intuitive operation via touch screen
Fast, precise & quiet
Extremely convenient
Total Stitch Control
Jen Beeman loves designing fashions in fine jersey fabrics.
Her machine of choice for trouble-free, smooth-looking stitches on woven and knit fabrics is the L 890.
The perfect stitch quality gives her garments the professional look she expects.
She especially loves the convenient One-step BERNINA Air Threader, for fast, easy threading of the looper threads.
As a combo machine, the L 890 offers the right stitch for every idea.
The touch screen allows Jen to keep an eye on everything, while focusing on her creativity.
Perfect seams due to Total Stitch Control
Save 100 Stitches in your Personal Memory
Adjust stitch length, differential feed & thread tension while sewing
Needle stop can be permanently set up or down
With the L 890 you can change all settings individually and save up to 100 stitches in your Personal Memory.
Also, stitch length, differential feed, thread tension, cutting width or any other stitch parameter can be adjusted while sewing.
A simple turn of the MTC (Micro Thread Control) lets you modify the amount of overedge thread.
Convenient features you'll love
Raise or lower the needle by a half stitch
BERNINA Free Hand System (FHS) to raise and lower the presser foot
Swing out the presser foot to access the needles
By pressing the foot control with your heel, you can easily raise or lower the needle by a half stitch.
The BERNINA Free Hand System (FHS) lets you raise and lower the presser foot with your knee, leaving both your hands free to guide the fabric.
Grand sewing space
5 5/8″ to the right of the needle
Extension table included
Convenient free-arm
The space offered on the L 890 is generous by any definition. It has more room to the right of the needle and more work space height than any other BERNINA overlocker.
Sew closed items with ease by simply sliding sleeves or cuffs over the convenient free-arm.
Fast, precise & quiet
Sew up to 1,350 stitches per minute
Strong, consistent and precise at any speed
Program and control speed via touch screen
Not only can you sew quickly, but you can also sew stitch-by-stitch, making the flawless production of precise lines and curves a simple process. Plus, you will enjoy how extremely quiet the BERNINA L 890 sews.
Program and control the maximum and minimum speeds via the colour touch screen.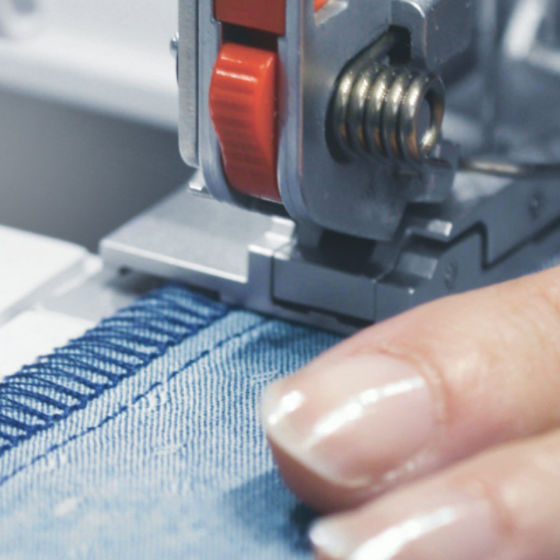 The perfect seam for every idea
For all types of fabrics & threads
Sew using either 2, 3, 4 or 5 threads
For overlock, chain-/cover- & combo stitches
The L 890 sews using 2, 3, 4 or 5 threads, providing the perfect seam for every design.
From the stretchiest knits to the most loosely woven fabrics the L 890 has the perfect stitch for particularly highly elastic and knitted materials, and threads.
Combine both overlock, cover- and chainstitches for extra durable seams using 4- or 5-thread combo stitches.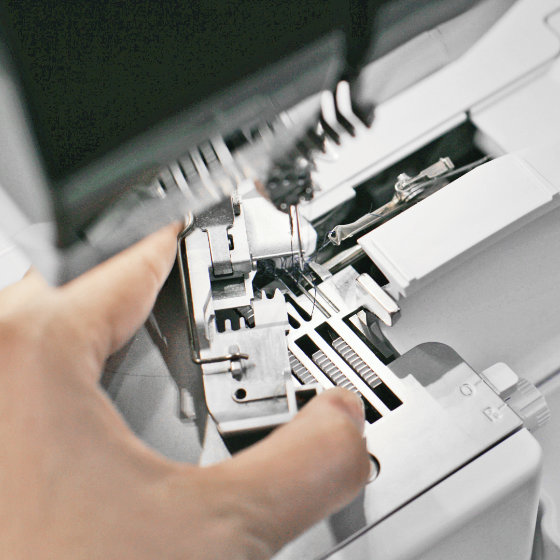 Quick threading
One-path threading
Colour-Coded threading path
Easily change from one stitch to another
Colour-coded One-path threading enables you to easily switch between Overlock, Coverstitch or Combo stitches in no time at all.
Every machine set-up and operation is supported with animations accessible on the colour touch screen.