Product Description
Who says a sewing machine always has to look the same?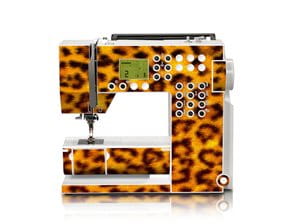 For the BERNINA 215, there's a very special option available: with BERNINA DesignSkins®, you can turn your 215 into an unmistakeable, entirely individual one-off.
To do this, you can either select your favourite design from the various designs available at BERNINA DesignSkins® , or use your own photos or graphics to lend an individual look to your BERNINA 215.
Your design is printed on an easy-to-apply vinyl skin, enabling you to style your BERNINA 215 according to your wishes and preferences –it doesn't get any more individual than that!