Product Description
Thanks to its conveniently arranged one-touch buttons, the bernette Chicago is easy to use, making sewing and embroidery a breeze. Sewists will be quick to appreciate the versatility of this sewing and embroidery machine, whether using the bernette Chicago for simple alterations, personalization, embellishments or sewing large projects. The bernette Chicago offers a wealth of options for giving creative expression to your ideas: over 150 decorative stitches, 20 quilting stitches, two alphabets, a maximum stitch width of 7 mm, as well as 100 built-in embroidery designs. The features of the bernette Chicago are guaranteed to set your creative pulse racing. And thanks to the automatic one-step buttonhole and a simple threading system, all sewing projects can be accomplished quickly and easily.
Sewing and embroidery
As a fully-fledged sewing and embroidery machine, the bernette Chicago leads a double life. Not only does it make sewing garments or quilting a piece of cake, but attach the embroidery module and in seconds the bernette Chicago is transformed into an embroidery machine. Selecting embroidery mode takes you to the embroidery area, where a collection of 100 built-in embroidery designs and an alphabet are available. All designs can be rotated or mirrored, and additional embroidery designs of your own can be added via USB stick. The maximum embroidery area of 110 x 170 mm allows attractive custom-embroidered embellishments to be applied to self-made or purchased garments and furnishings. Compatibility with the BERNINA CutWork Software and Accessory gives the especially-creative sewer the additional option of forging ahead in another creative dimension — creative cutting! Whether it's eyelet embroidery, openwork designs or stamping, the bernette Chicago will amaze you with its versatility.
Embroidery module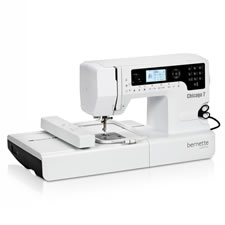 By removing the slide-on table, the embroidery module, which has a maximum embroidery area of 110 x 170 mm, can be attached quickly and easily.
100 stunning embroidery designs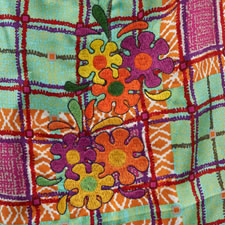 Use the 100 exclusive pre-programmed embroidery designs and enjoy the fine, precise embroidery quality of the bernette Chicago.
Needle thread monitoring and bobbin thread checking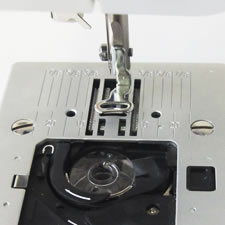 The needle thread monitor automatically stops the embroidery process if the needle thread breaks or the spool is empty. The bobbin is also checked before each embroidery operation. This guarantees reliable embroidery.
Semi-automatic threader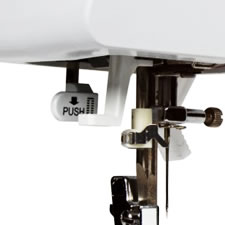 Quick and easy threading. With one movement, the thread magically goes through the eye of the needle.
7mm stitch width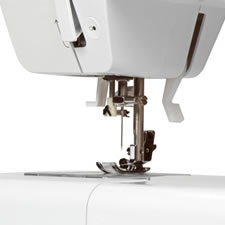 Especially practical for decorative sewing.
Create beautiful trimmings and appliqué designs with little effort.
Embroidery designs (selected examples)

General Machine Features and Benefits
LCD Sticth Display
Direct Stitch Select and Scroll Buttons
Flip Top Lid & Dust Cover
LED Light
Semi-automatic Needle Threader
Start/Stop with Slide Control
AC Motor
Automatic Bobbin Winding
Drop-in Bobbin / Hook System
Sewing Machine Features and Benefits
Maximum Sewing Speed 800 stitches per minute
4.5mm Maximum Stitch Length
7.0mm Maximum Stitch Width
5 Needle Positions
Needle Up/Down
Auto Preset of Stitch Width and Length
Stitch Editing
Automatic securing
Long-term Memory/Stitch Combinations
Tow-Level Presser Foot Lifter
Presser Foot Pressure Adjustment
Quick Reverse
Automatic One-Step Buttonhole
Embroidery Features and Benefits
Embroidery Field 110mm x 170mm
Embroidery Speed 600 stitches per minute
Rescaling of Designs
Mirror Image Designs
Trace Designs
Stich Motif as Single/Multi Colour
Move Designs
View Thread Colour, Number of Threads, Design Size, Hoop and Hoop Size
Thread Tension Adjustment
Upper Thread Sensor & Lower Thread Check
USB Connection
CutWork Tool & Software Compatibility
Accessories
8 Presser Feet

All Pupose
Zipper
Button Sewing
Buttonhole
Satin Stitch
Overcasting
Blind Hem
Darning/Embroidery
Simple Embroidery

3 Bobbins
Assorted Needles
Seam Guide
Seam Ripper/Brush
L-Screwdriver
Screwdriver
Second Spool Pin
Small & Large Spool Holders
Spool Pin Flet
Dust Cover
Large Embroidery Hoop
Template – Large Embroidery Hoop
Spool Net
Scissors
Full Manufacturer's Warranty
2 Years Mechanical
1 Year Electronic